SHRIRAM AUTOMALL INDIA LIMITED IS PARTICIPATING IN CII INTERNATIONAL MINING AND MACHINERY EXHIBITION 2022
New Delhi, 12th November 2022: Shriram Automall India Limited (SAMIL) - India's Largest Phygital Marketplace for used vehicles and equipment, is participating in the CII – International Mining and Machinery Exhibition 2022 which will be organised in Kolkata from 16th to 19th November 2022.
Topics: NBFCs | vehicles | auction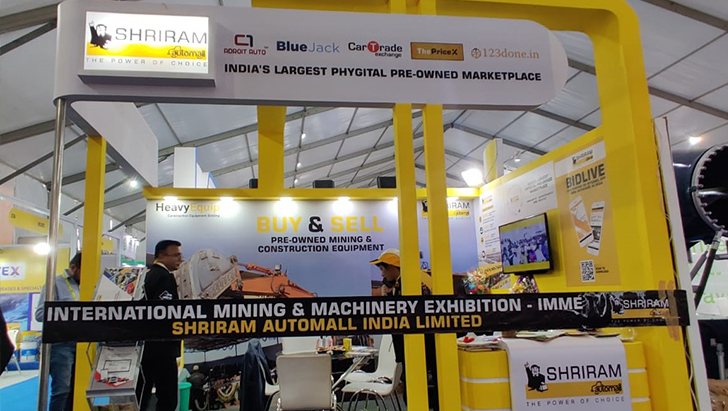 Shriram Automall is the leader in the used vehicles and equipment market in India as the company has sold over 1.6 million vehicles & equipment and connected lakhs of buyers and sellers in over a decade of operations. To strengthen its business potential in the pre-owned market of mining, machinery and construction equipment industry, Shriram Automall is setting up a stall at India's exhibition for the mining sector.
The 2022 edition of International Mining and Machinery Exhibition (IMME) is organised by Confederation of Indian Industry (CII), 4 years after the last exhibition which was held in 2018. IMME plays a pivotal role for the manufacturers and businesses of mining & construction equipment. Over 250 exhibitors from all over the world gather and showcase their latest technology in the mining and machinery industry. Over 10,000 business visitors are expected to attend the event in the span of 4 days.
Shriram Automall will be available on the stall no 215 in the Hangar B in the exhibition. The company's presence in India's largest mining exhibition will provide many businesses in the mining sector an opportunity to on-board India's largest Phygital marketplace for buying and selling used mining & construction equipment.
Sameer Malhotra, Director & CEO, SAMIL said "Shriram Automall India Limited is charting its way up in the used vehicles and equipment market by offering best customer experience and satisfaction. By participating in India's largest Mining Exhibition, we are expanding our reach to the original equipment manufacturers, businesses and customers in the mining industry. We will provide our holistic services under a single roof along with a wide range of services to aid our customers in post-purchase hassles such as documentation, parking, logistics, finance and more."
ABOUT SHRIRAM AUTOMALL INDIA LIMITED (SAMIL):
Shriram Automall India Limited (SAMIL), an ISO 9001:2015 certified company, is India's leading Marketplace connecting pre-owned vehicles and equipment buyers and sellers. SAMIL began its journey in 2011 by setting up India's first professionally managed and organized Auction Platform for buying and selling pre-owned cars, commercial vehicles, construction equipment, farm equipment, three-wheelers, two-wheelers, etc.
Backed by CarTrade Tech Limited and Shriram Transport Finance Company Limited, SAMIL has over 1,700 employees and more than 100 Automalls across India. SAMIL conducts thousands of auction events every month through its Phygital platforms (Automalls) and online platforms cartradeexchange.com and bids.samil.in. SAMIL also provides vehicle inspection and valuation services through Adroit Auto, innovative car buying and selling experience through BlueJack, and industrial auction of properties, plant and machinery, commodities, and scrap, salvage and surplus assets through 123done.in.
For more information about Shriram Automall, its group companies, and services, visit samil.in.
For more information, please contact:
Vibha Sarin Prabhakar Chief Experience Officer
Shriram Automall India Limited (SAMIL)
7th Floor, Best Business Park, Netaji Subhash Place, Pitampura, Delhi – 110034
Tel: +91.11.42414422
Mob: +91.9811234243
Fax: +91.11.42414444
E-Mail: vibha@samil.in
Website: www.samil.in