SHRIRAM AUTOMALL CONDUCTS BIGGEST PHYGITAL AUCTION OF THE YEAR BY SELLING 7,500+ PRE-OWNED VEHICLES, EQUIPMENT AND OTHER ASSETS ON 12th SAMIL UTSAV DAY
Topics: NBFCs | vehicles | auction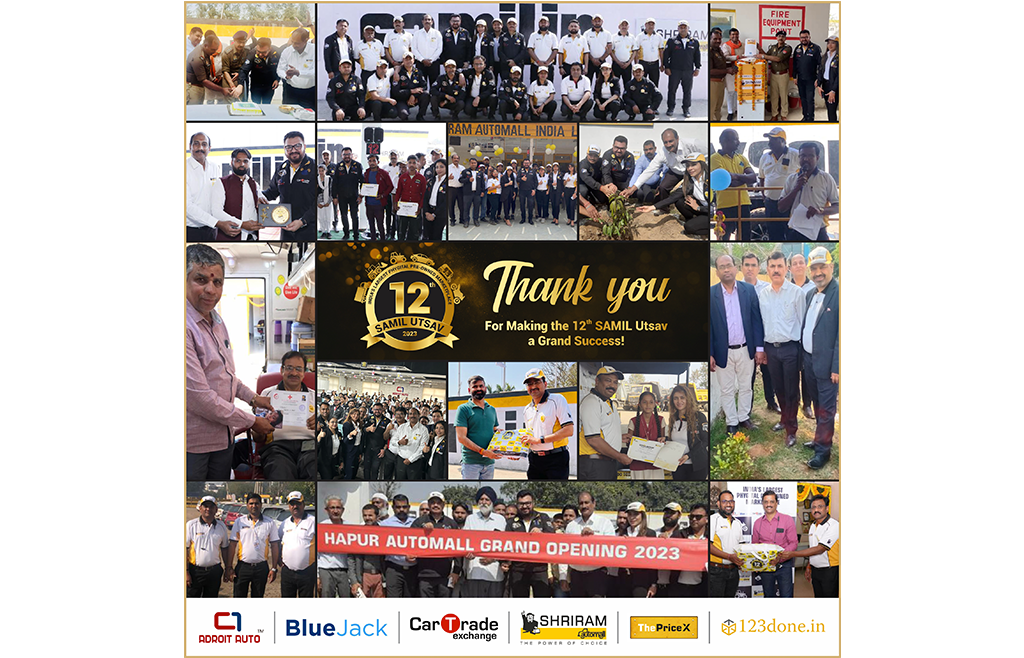 New Delhi/Chennai, 27th February 2023: India's Largest Phygital Pre-owned Marketplace for Vehicles and Equipment, Shriram Automall India Limited (SAMIL) created yet another benchmark in the used automobile industry on its 12th Business Anniversary by recording footfalls of over 25,000 customers on a single day. The grand event of 120+ auctions in over 120 cities across India was held on 25th February, 2023.
SAMIL Utsav has a legacy of creating new benchmarks with successful auctions and exceptional customer satisfaction pan-India. The 12th edition of SAMIL Utsav turned out to be the Biggest Auction of the Year as the company provided once in a life-time experience to both buyers and sellers at its 120+ Automalls from tier I, II and III cities across the country. The Annual event recorded transactions worth of INR 185+ Cr by selling 7500+ vehicles, equipment and other assets in a single day. On this landmark occasion, we have inaugurated 3 new Automalls in Hapur, Guwahati & Muzaffarpur, in line with our national business expansion plans.
Over 16,000+ pre-owned vehicles, equipment and other assets across segments like cars, trucks, construction equipment, farm equipment, two-wheeler and three-wheeler from a full spectrum of sellers across consumers, Banks, NBFCs, Insurance Companies, OEMs and Dealers, Leasing, Rental and Aggregator Companies, Brokers, Transporters, Contractors, were displayed and ramped.
On the 12th Business Anniversary, SAMIL provided 'Power of Choice' to its customers to buy their preferred Vehicles & Equipment from wide range of inventories. All sort of allied services ensured that customers had a hassle-free purchasing experience at the event. A number of loyal customers with long history of transactions were felicitated with gifts and goodies. Under our CSR flagship program, we have distributed around 800 scholarships to underprivileged students, planted around 300 tree saplings across 120+ Automalls and installed 20+ water coolers at transport nagars, RTOs, police stations, panchayats, and schools to provide safe drinking water. 5 Medical Camps were organised for blood donations & health check-ups of our stakeholders.
12th SAMIL Utsav witnessed thousands of registered customers participating in the auctions by utilising state-of-the-art BidLive platform on MySAMIL App which enabled them to watch the vehicles of their choice ramping in real-time without latency at any on-going auction across 120+ Automalls. This Phygital mode of participation enhanced the customer experience as they could bid right from the comfort of their homes. The live streaming of auctions is changing the way people are bidding for used vehicles in India and is truly innovative in the industry.
At the same time, the company provided provision for online auctions on its advanced bidding portals like bids.samil.in and cartradeexchange.com, creating all-inclusive mobility solutions for buyers and sellers.
Sameer Malhotra, Director and CEO, SAMIL said "It's a wonderful experience to create yet another benchmark in the used Automobile Industry by selling over 7,500 inventories worth over INR 185 Cr at 120+ auctions in single day where over 25,000 customers from 500 cities came to participate in 12th SAMIL Utsav. Our transparent process, state-of-the-art facilities, customer-centric services under a single roof along with cutting-edge Phygital and Online bidding platforms made this possible. We would like to convey our heartfelt gratitude to our guests, buyers, sellers, stakeholders and Samilians for making 12th Business Anniversary synonymous with the Biggest Auction of the Year 2023."
ABOUT SHRIRAM AUTOMALL INDIA LIMITED (SAMIL):
Shriram Automall India Limited (SAMIL), an ISO 9001:2015 certified company, is India's Largest Phygital Marketplace connecting pre-owned Vehicles & Equipment buyers and sellers. SAMIL began its journey in 2011 by setting up India's first professionally managed and organised Auction Platform for buying and selling pre-owned cars, commercial vehicles, construction equipment, farm equipment, three-wheelers, two-wheelers, etc.
Backed by CarTrade Tech Limited and Shriram Finance Limited, SAMIL has over 1,700 employees and more than 120 Automalls across India. SAMIL conducts thousands of auction events every month through its Phygital platforms (Automalls) and online platforms cartradeexchange.com & bids.samil.in. SAMIL also provides vehicle inspection and valuation services through Adroit Auto, innovative car buying and selling experience through BlueJack, precise used vehicles & equipment pricing through ThePriceX and industrial auction of properties, plant and machinery, commodities, and scrap, salvage and surplus assets through 123done.in.
For more information about Shriram Automall, its group companies and services, visit samil.in.
For more information, please contact:
Vibha Sarin Prabhakar
Chief Experience Officer
Shriram Automall India Limited (SAMIL), Delhi | India
7th Floor, Best Business Park, Netaji Subhash Place, Pitampura, Delhi – 110034
Tel: +91.11.41414444, Fax: +91.11.42414444
E-Mail: contact@samil.in
Website: www.samil.in